$20 gift certificate at the Locker Room
Locker Room Spring Valley
Sold Out
Sorry, this item is currently sold out.
Gift Certificates are good for any items or service in the store.


The Locker Room in Spring Valley is owned and operated by Jim and Sue Garland. The store originally known as Mautino's Locker Room, was purchased in 2003 by Jim Garland and renamed The Locker Room. The Locker Room features sports apparel for local school as well as a wide arrangement of sporting goods. There custom designs, screen printing, embroidery, tackle twill lettering and so much more. They also have salesmen in Kankakee and Joliet, IL. Jim and Sue Garland Reside in Spring Valley with their two sons Rhodes and Grant.

Buy and use as many as you like. No Cash Value, No Carryover, No Expiration.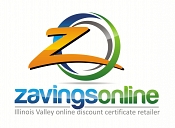 Click images to enlarge.







Locker Room Spring Valley
123 E St. Paul
Spring Valley, IL 61352
Phone: (815) 663-1108
http://www.lockerroomspri